8/16/14



Go to page 1

Go to page 1, part2 Go to Page 14



All DVDs are $15.00 each, includes shipping and printed track list!
Please E-mail me for additional info and options
E-mail contact
or
Email
RONSVIDEOTRADELIST #15

THE RAVERS 1967
U.K. The girls are the hunters, the boys the hunted! The Ravers is an episode from the 1967
BBC TV series "Man Alive".
The episode follows the British pop group Simon Dupree & The Big Sound who perform their single, "Day Time, Night Time".
The Ravers was mostly filmed at the local church hall in Stonehouse, Gloucestershire where many of the top bands of the sixties played including the 'Swinging Blue Jeans', 'The Animals', 'Screaming Lord Such' and 'Dave Berry' to name only a few.
AUSTRALIA'S TEENAGE SCENE 1966
AUS. This excellent documentary on Melbourne's mod "teen and 20 set" provides an overview of music, fashion, sex, and the youth scene.
HOLD ON - Dave Clark Five
Color promo film with Dave Clark Five!






SUMMER CHILDREN 1965
U.S. film. Excellent quality. 16:9 widescreen. Featuring rock & surf group, The Deacons. Long thought lost, this 1965 youth culture film was never released due to budget problems. Summer Children depicts the other side of the Frankie & Annette Beach Party movies by showing a more realistic picture of the 1965 southern California, teenage pop culture scene; namely, free love.
MALIBU-U 9/1/67
Sep-1-67. Hosted by Rick Nelson. Malibu-U has a "Where The Action Is" feel featuring rock and roll.
Guest artists: The Breed, Peter and Gordon, Dionne Warwick, Marvin Gaye, Sandy Posey.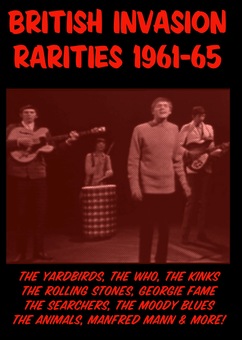 Fantasitic clip compilations direct from the French TV INA Archives.
Nicely edited, high quality and assembled with menus.
Most clips on Vols 1-5 previously not listed here.
British Invasion Rarities Volume 1 - 1961- 65
Georgie Fame - In The Meantime {Tête de Bois et Tendres Années 7.10.65}**
Georgie Fame - Monkeying Around {Douches Ecossaise 12.20.65}
Georgie Fame - Sweet Thing, Getaway, Instrumental, {Made In England 3.18.65}*
Manfred Mann - Watermelon Man {Age Tendre et Têtes de Bois 3.31.65}
The Animals - See See Rider {Vient de Paraître 12.5.65}
The Fourmost - Hello Little Girl {Age Tendre et Têtes de Bois 10.23.63}
The Honeycombs – Colour Slide {Discorama 1.03.65}
The Kinks - Come On Now {Quoi De Neuf}
The Kinks - Milk Cow Blues {Music-Hall de France 12.18.65}*
The Kinks - Tired of Waiting {Quoi De Neuf}
The Moody Blues - Go Now & Bye Bye Bird {Tête De Bois À Cannes 1965}*
The Rolling Stones - It's All Over Now {Quoi De Neuf 11.5.64}
The Searchers - Someday We're Gonna Love Again {Vient de Paraître 3.9.65}
The Searchers - Sugar & Spice {La Grande Farandole 4.11.64}
The Shadows - Apache {Toute La Chansons 11.6.61}
The Who - Can't Explain {Vient de Paraître 6.3.65}
The Who - Live, Interview & Candid Footage {Made In England 3.18.65}
The Yardbirds - For Your Love {Discorama 6.20.65}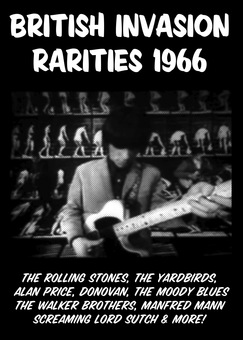 British Invasion Rarities Volume 2 - 1966
Alan Price - For Once In My Life {Tilt Magazine 10.5.66}
Alan Price - Hi Lilli Hi Lo {A Tous Vents 10.9.66}
Alan Price - Hi Lilli Hi Lo {Vient de Paraître 10.16.66}
Alan Price - I Put A Spell On You {Tilt Magazine 10.5.66}
Dave Berry - This Strange Effect {Douches Ecossaise 4.4.66}
Dave Berry - This Strange Effect {Vient de Paraître 3.17.66}
Donovan - Sunshine Superman, Sand and Foam, Catch The Wind, Mellow Yellow {Music-Hall de France 12.17.66}*
Ian Whitcomb - Nervous {Douches Ecossaise 4.4.66}
Ian Whitcomb - You Turn Me On {Paris Carrefour Du Monde 4.17.66}
Manfred Mann - Semi-Detached Suburban Mr. James {Reveillon sur Les Deux Chaines 12.31.66}
Screaming Lord Sutch - Honey Hush {Vient de paraître 4.28.66}
The Cryin' Shames - Please Stay {Vient de paraître 6.4.66}
The Fortunes - Here It Comes Again {Douches Ecossaise 5.16.66}
The Moody Blues - Bye Bye Bird {Douches Ecossaises 3.7.66}
The Moody Blues - Go Now {Music-Hall de France 2.18.66}*
The Moody Blues - I'll Go Crazy {Cravate Noire 5.3.66}*
The Rolling Stones- Have You Seen You Mother Baby {Tilt Magazine 11.9.66}
The VIP's - My Babe {A Tous Vents 12.04.66}
The Walker Brothers - My Ship Is Coming In {Vient de Paraître 2.1.66}
The Yardbirds - I'm A Man {Douches Ecossaises 3.7.66}
The Yardbirds - Shapes of Things {Midi Variété 4.16.66}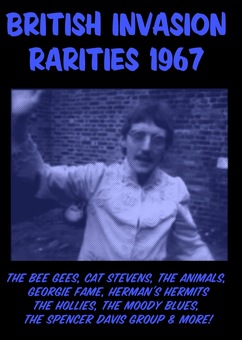 British Invasion Rarities Volume 3 - 1967
Cat Stevens - I Love My Dog & Matthew & Son {Music-Hall de France 4.14.67}**
Cat Stevens - I'm Gonna Get Me A Gun {Dim Dam Dom 5.14.67}
Chris Farlowe - Moanin' {Qui Marions 10.21.67}
Dave Berry - Little Things {A Tous Vents 1.15.67}
Dave Berry - Walk Walk Talk Talk {Au Risque de Vous 3.18.67}
Dave Dee, Dozy, Beaky, Mick and Tich - He's A Raver {Rendez-vous sur le rhine 8.19.67}
Dave Dee, Dozy, Beaky, Mick and Tich - Save Me {A Tous Vents 2.19.67}
Denny Laine - Say You Don't Mind {Bouton Rouge 5.21.67}
Georgie Fame - Getaway, Sunny, Knock On Wood {Music-Hall de France 4.14.67}
Herman's Hermits - There's A Kind of Hush {Discorama 4.2.67}
Manfred Mann - Ha Ha Said The Clown {Dim Dam Dom 9.10.67}
Manfred Mann - So Long Dad {Dim Dam Dom 9.10.67}
Paul Jones - Privilege & I've Been a Bad, Bad Boy {Music-Hall de France 8.13.67}
The Animals - See See Rider {Discorama 1.8.67}
The Bee Gees - Massachusetts {Dim Dam Dom 12.10.67}
The Bee Gees - Sir Geoffrey Saved The World {Dim Dam Dom 12.10.67}
The Hollies - On A Carousel {A Tous Vents 1.22.67}
The Moody Blues - Fly Me High {Tête de Bois et Tendres Années 5.10.67}
The Moody Blues - Nights In White Satin {Bouton Rouge 12.9.67}
The Spencer Davis Group - Mr. 2nd Class {Tête de Bois et Tendres Années 2.10.67}
The Who - In The Studio {Bouton Rouge 5.21.67}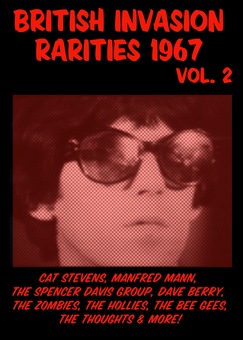 British Invasion Rarities Volume 4 - 1967
Cat Stevens - Matthew & Son {Dim Dam Dom 5.14.67}
Dave Berry - Mama {A Tous Vents 1.15.67}
Dave Dee, Dozy, Beaky, Mick and Tich - Hold Tight, Land of 1000 Dances {Bouton Rouge 6.18.67}*
Dave Dee, Dozy, Beaky, Mick and Tich - Bend It {A Tous Vents 2.19.67}
Dave Dee, Dozy, Beaky, Mick and Tich - Okay {Rendez-vous sur le rhine 8.19.67}
Dave Dee, Dozy, Beaky, Mick and Tich - Touch Me, Touch Me {Rendez-vous sur le rhine 8.19.67}
Herman's Hermits - No Milk Today {Tilt Magazine 2.22.67}
Manfred Mann - Ha Ha Said The Clown {Bouton Rouge 5.21.67}
Manfred Mann - Ha Ha Said The Clown {La Grande Farandole 4.17.67}
Paul Jones - I've Been A Bad Bad Boy {Discorama 6.25.67}
The Bee Gees - Massachusetts {Tilt Magazine 11.29.67}
The Bee Gees - Sir Geoffrey Saved The World {Discorama 12.24.67}
The Bee Gees - World, Sir Geoffrey Saved The World, Massachusetts {Le Nouveau Dimanche 11.26.67}
The Hollies - Have You Ever Loved Somebody? {A Tous Vents 1.22.67}
The Rolling Stones- In The Studio {Tilt Magazine 3.22.67}
The Spencer Davis Group - I'm A Man, Every Little Thing {Music-Hall de France 8.13.67}
The Thoughts - All Night Stand {A Tous Vents 3.5.67}
The Walker Brothers - The Sun Ain't Gonna Shine Anymore {Dents De Lait Dents De Loup 1.11.67}
The Zombies - This Old Heart Of Mine {Dents De Lait Dents De Loup 1.11.67}*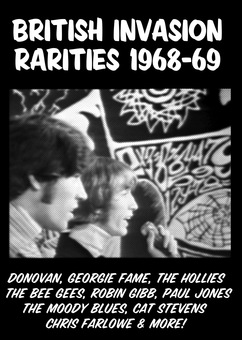 British Invasion Rarities Volume 5 - 1968-69
Cat Stevens - First Cut Is The Deepest {Bouton Rouge 1.6.68}*
Chris Farlowe - Paint It Black {Dim Dam Dom 3.10.68}
Dave Dee, Dozy, Beaky, Mick and Tich - Hold Tight, Frustration, Save Me {1st festival international de Pop Music 1.11.69}*
Dave Dee, Dozy, Beaky, Mick and Tich - The Wreck Of The Antoinette {Tous En Scene 6.27.69}*
Dave Dee, Dozy, Beaky, Mick and Tich - Last Night In Soho {Samedi et Compagnie 10.5.68}
Donovan - Isle of Islay {Allegro 6.4.68}
Donovan - Jennifer Juniper {Tilt Magazine 1.23.68}
Georgie Fame - Bonnie & Clyde {Discorama 1.28.68}
John Walker - Do You Wanna Dance {1st festival international de Pop Music 1.11.69}*
Peter & Gordon - Greener Days {Le Petit Dimanche Illustré 1.14.68}
Robin Gibb - Saved By The Bell & One Million Years {Rendez-vous In Barcelona}
The Bee Gees - Don't Forget To Remember {Samedi et Compagnie 12.6.69}
The Bee Gees - Holiday {Tilt Magazine 7.1.68}
The Bee Gees - Massachusetts {Discorama 3.10.68}
The Hollies - Jennifer Echols {La Nouvelle Vague De La Pop Music 12.10.68}
The Hollies - Listen To Me {La Nouvelle Vague De La Pop Music 12.10.68}
The Moody Blues - Nights In White Satin {Dim Dam Dom 3.10.68}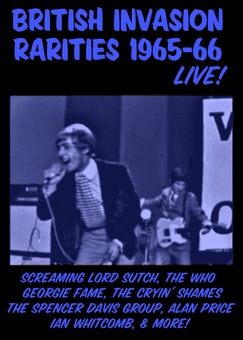 British Invasion Rarities Volume 6 - 1965-66 Live!
Alan Price - Shake, I Put A Spell On You, Barefootin', Hi Lilli Hi Lo {Music-Hall de France 10.22.66}
Dave Berry - Memphis {Music-Hall de France 3.31.66}
Georgie Fame - Do Re Mi {Music-Hall de France 12.18.65}
Ian Whitcomb - You Turn Me On & Good Hard Rock {Music-Hall de France 3.19.66}
"Live From the Cavern Club": Gene Vincent - What'd I Say, Whole Lotta Shakin' Going On; Sandie Shaw - Girl Don't Come; Manfred Mann - Watermelon Man, Do Wah Diddy; Petula Clark - Viens Avec Moi; Gerry and the Pacemakers - Ferry Cross The Mersey {Age Tendre et Têtes de Bois 3.31.65}
Screaming Lord Sutch - Roll Over Beethoven Medley {Music-Hall de France 7.22.66}
The Cryin' Shames - Please Stay {Music-Hall de France 4.12.66}
The Fortunes - You've Got Your Troubles, Come On Over To My Place {Music-Hall de France 4.9.66}
The Spencer Davis Group - Keep On Running, Somebody Help Me {Music-Hall de France 6.7.66}
The Who - Barbara Ann, My Generation {Music-Hall de France 4.9.66}
The Yardbirds - Train Kept A Rollin' {Music-Hall de France 7.2.66}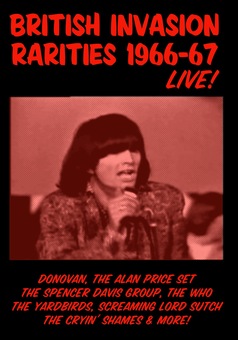 British Invasion Rarities Volume 7 - 1966-67 Live!

Alan Price Set - I Can't Turn You Loose, Have Mercy, Barefootin', Land of a Thousand Dances {Reveillon sur Les Deux Chaines 12.31.66}
Dave Berry - Little Things, This Strange Effect, High Heel Sneakers {Music-Hall de France 2.12.66}
Donovan - Mexico, Sweet Beverly, Hey Gyp, Guinevere, The Tinker and The Crab, Season of the Witch {Bouton Rouge 5.21.67}
Screaming Lord Sutch - Great Balls of Fire {Music-Hall de France 7.2.66}
The Cryin' Shames - Gloria {Music-Hall de France 4.12.66}
The Spencer Davis Group - Mean Woman Blues, Together Till the End of Time {Music-Hall de France 12.17.66}
The Spencer Davis Group - My Babe, Georgia, Mean Woman Blues {Music-Hall de France 5.13.66}
The Who - Substitute, A Man With Money, Dancing In The Street {Music-Hall de France 4.22.66}
The Yardbirds - Shapes of Things, Over Under Sideways Down {Music-Hall de France 7.2.66}
All performances are live





BEATLES -"Love Me Do"
Cool doc with interviews with friends of the Beatles
Some obscure newsreel clips of the Beatles.





Music Machine Documentary (2011)
Sean Bonniwell describes the history of the Music Machine.
Contains several complete US TV appearance clips.
(50 MIns. color / BW)





Les Ready Steady Girls - Volume 1
Dalida - "La Lecon De Twist" (Toute La Chansons 2.5.1962)
Marianne Faithfull - Nuits d'été (Douches Ecossaises 3.7.1966)
France Gall - "Le Temps De La Rentrée" (Moins de vingt ans 11.28.1965)
Sandie Shaw - "Je ne marche pas", "Je Pense a Toi", "Pourvu Que Ça Dure" (Music-Hall de France 2.15.67)
France Gall - "Das war eine schöne Party" (Rendez-vous sur le rhine - July 28, 1965)
Sylvie Vartan - "Garde-Moi dans Ta Poche" (Up Show 1967)
Françoise Hardy - "Je Changerais d'Avis", "La maison ou j'ai grandi" (Music-Hall de France 2.15.67)
Petula Clark - "Viens Avec Moi" (Discorama 4.11.65)
Rita Pavone - "Il geghegè" (Rendez-vous sur le rhine 10.12.66)
Renate Kern - "Laß Den Dummen Kummer!" (Rendez-vous sur le rhine 10.12.66)
Peggy March - "Mit 17 hat man noch Träume" (Rendez-vous sur le rhine 7.28.65)
France Gall - "Il Neige" (Reveillon sur Les Deux Chaines 12.31.66)
Chantal Kelly - "Les poupées d'aujourd'hui" (Reveillon sur Les Deux Chaines 12.31.66)
ZouZou - "Il Est Parti Comme Il Etait Venu" (Reveillon sur Les Deux Chaines 12.31.66)
Katty Line - "Ne fais pas la tête" (A Tous Vents 1.22.67)
Sheila - "Ouki Kouki" (Age Tendre et Têtes de Bois 10.23.63)
Gillian Hills - "Qui aurait dit ça" (Age Tendre et Têtes de Bois 4.28.62)
Christie Laume - "La musique et la danse" (Vient de paraître 2.16.67)
Petula Clark - Les James Dean (Hello! Paris 12.05.64)
Annie Phillippe - "Baby Love" (Vient de paraître 5.29.65)
Stella - "Carnet De Balles" (Music-Hall de France 8.13.67)
Pussycat - "Ce n'est pas une vie" (Music-Hall de France 6.7.66)
Françoise Hardy - "Mon amie la Rose" (Douce France 4.26.65)
Françoise Hardy - "Les Garcons" (Francois Hardy Blues 10.15.66)
Mina - "No Quiero Chocolate" (Toute La Chansons 2.5.1962)





Les Ready Steady Girls - Volume 2
Anna Karina - "Sous le soleil exactement" (Tilt Magazine 9.4.67)
Petula Clark - "Ya-Ya" (Toute La Chansons 2.5.1962)
France Gall - "L'Amérique" (Moins de vingt ans 11.28.1965)
Sandie Shaw - "Pourvu Que Ça Dure" (Discorama ??/??/??)
Sandie Shaw - "Tu L'As Bien Compris" (Discorama 10.24.65)
Chantal Goya - "Si Tu Gagnes Au flipper" (Douches Ecossaises 6.13.1966)
France Gall - "Baby Pop" (Douches Ecossaises 6.13.1966)
France Gall - "Et des baisers" (Rendez-vous sur le rhine - July 28, 1965)
Petula Clark - "Hello Mister Brown" (La Grande Polka 10.29.66)
Rita Pavone - "Supercalifragilistic" (Rendez-vous sur le rhine 10.12.66)
Peggy March - "Let Her Go" (Rendez-vous sur le rhine 7.28.65)
Violane - "Cousin Kneypper" (Reveillon sur Les Deux Chaines 12.31.66)
Françoise Hardy - "Rendez-vous d'automne" (Reveillon sur Les Deux Chaines 12.31.66)
Stone - "Garde ton sang froid" (Reveillon sur Les Deux Chaines 12.31.66)
Dani - "Sans Asterisque" (Reveillon sur Les Deux Chaines 12.31.66)
Tiny Yong - "Un seul garçon sur la terre" (Age Tendre et Têtes de Bois 11.13.63)
Sandie Shaw - "Girl Don't Come" ("Mais Tu L'aimes") (Age Tendre et Têtes de Bois 3.31.65)
Sylvie Vartan - "Le Jour Qui Vient" (Le Petit Dimanche Illustré 4.7.68)
Annie Philippe - "C'est La Mode" (A Tous Vents 12.04.66)
Les Parisiennes - "L'Argent ne fait pas le bonheur" (A Tous Vents 12.04.66)
Petula Clark, Françoise Hardy & Sylvie Vartan - Medley (Hello! Paris 12.05.64)
Sandie Shaw - "Pourvu Que Ça Dure" (Sacha Show 11.29.65)
Dalida - "Achète moi un Juke-Box" (Toute La Chansons 2.5.62)
Stella - "Cauchemar Auto Protestateur" (Music-Hall de France 12.17.67)





Les Ready Steady Girls - Volume 3
Sheila - Adios Amor (Tilt Magazine 9.4.67)
Chantal Kelly - "Je n'ai que quinze ans" (Douches Ecossaises 3.7.1966)
Marianne Faithfull - "Yesterday" & "Nuits d'été" (Music-Hall de France 2.12.66)
Dani - "La Machine" (Bouton Rouge 4.16.67)
France Gall - "Bonsoir John-John" (La Grande Polka 10.29.66)
Pussycat -"Ce n'est pas une vie" (Vient de paraître 4.21.66)
Les Parisiennes - "L'Argent ne fait pas le bonheur" (Reveillon sur Les Deux Chaines 12.31.66)
Ria Bartok - "Tu sais Me plaire" (Age Tendre et Têtes de Bois 5.11.63)
Petula Clark - "Viens Avec Moi" (Age Tendre et Têtes de Bois 3.31.65)
Petula Clark - "C'est Ma Chanson" (Tilt Magazine 2.22.67)
Françoise Hardy - "Des Ronds Dans L'eau" (Tilt Magazine 11.29.67)
France Gall - "Néfertiti" (Bouton Rouge 4.16.67)
France Gall - "Les sucettes" (Bouton Rouge 4.16.67)
Sylvie Vartan - "Quando Sorridi Tu" (Le Petit Dimanche Illustré 4.7.68)
Sylvie Vartan - "L'enfant Aux Papillons" (Le Petit Dimanche Illustré 4.7.68)
Annie Philippe - C'est la mode (Discorama 12.24.66)
Cleo - "Les Fauves" (Discorama 12.31.66)
Petula Clark - Downtown (Hello! Paris 12.05.64)
Sylvie Vartan et Frankie Jordan - "Mon Petit Chat", "Panne D'essence" (Discorama 11.19.61)
Sandie Shaw - "Tu L'As Bien Compris" (Sacha Show 11.29.65)
Rita Pavone - "Alla Mia Eta", "Non E Facile Avere 18 Anni","Porque? Porque?", "Cuore" (Rendez-vous avec Rita Pavone)
Stone - "Vive La France" (Bouton Rouge 5.21.67)
ZouZou - "Petit Garçon" (Bouton Rouge 6.18.67)





Jack Benny Collection
Beach Boys
Trini Lopez
Paul Revere and the Raiders
Issac Hayes
Defranco Family
Frank Sinatra
Dionne Warwick
Lou Rawls
Eddy Fisher
Nancy Sinatra
Gary Pucket Color , (Ex- 50 Mins.)





"Walk Hard - The Dewey Cox Story" (2007) (Feature Film)
Rock and Roll "rockumentary" pardoy.
Funny rock and roll hard luck story set in 50s-80's (2 hours)



"Garage Days" (2002) (Feature Film)
An Aussie rock band tries to get a gig.
A fun , sexy and drug filled romp through a fictional Aussie club scene. (90 mins.)



"We Jam Econo" - The Story of the Minutemen (2006)
Quirky So - Cal Hardcore pioneers rip through live clips and music videos from the late 70's - early 80's.
Includes interviews with the band , other bands in the scene, producers, etc. (1hr 40 mins.)



Tom Jones Show
2/7/69 - Moody Blues , Mary Hopkin
4/18/69 - The Who (B/W)
9/25/70 - Burt Bacharach (ex color and B/W 90 mins.)



Tom Jones Show
5/25/70 - Stevie Wonder
9/9/70 - Aretha Franklin (ex, color 60 mins.)



Cream - "Classic Artists"
A detailed look at the history and
recording career of the British Invasion legendary trio.
Interviews with band members, etc. and performance clips.



Various Sixties Rock Clips
Some rare stuff here ;Clips from YouTube, ok quality
Highlights:
Blues Magoos interview (audio with slide show) 1967
Early Moody Blues Clips
Sparklings
Spotnicks
Troggs (Color)
Much more.....(1:43 mins.)



Beechnuts Clips Danny and the Jrs.
Pat Boone
Chuck Berry
Johnny Cash
Fats Domino
Duanne Eddy
Everly Bros.
Ventures - "Walk Don't Run" (Cool , EARLY!) More............
American Bandstand 1964
Terry Stafford
Duanne Eddy
Jackie Deshannon
Dusty Springfield
American Beetles (WHAT? with interview!) Poor Mr. Clark never did get the Beatles :) Lots more........... (60 mins.)



Fats Domino, live Europe 1962 (Ex quality, BW)
WTAI ~ 10-21-66: Stevie Wonder, Roy Head



"Where the Action Is" Episodes (7 in quality ~ 22 mins. each B/W
8-30-66: Johnny Rivers, Shades of Blue
9-12-66: Thomas Group, Petula Clark
9-14-66: Lou Christie, Knickerbockers
2-16-67: Seeds, Jimmy Holiday (Excellent quality on this episode)



"Where the Action Is" Episodes (7 in quality ~ 22 mins. each B/W
8-17-66: Billy Joe Royal, Gene Pitney, 4 Mates
8-31-66: Machuro Maki, Robbs, Steve Alaimo



American Bandstand 5-23-70: Misty Morgan & Jack Blanchard (Tenn Birdwalk)
The Sonics: Sunset Junction 8-23-09 (hand held, good sound, pretty cool!)



"Where the Action Is" Episodes (7 in quality ~ 22 mins. each B/W
12-9-66: Turtles, Bobby Rydell 8-15-66: Happenings, DJ & Runaways



Barry Richards - GROOVE - IN (1969 - 1973)
Excellent quality very rare clips!
Color, LIVE US TV performances!
Cliff Nobels
Ritchie Havens
Jamul
Zephyr
Little Rchard
Alice Cooper
Humble Pie
Fats Domino / Bryds
Bob Seger System
Muddy Waters
Rory Gallagher (1 hr. 52 mins.)



The Animals LIVE! (5/18/66)
LIVE concert from French TV
Nice quality, good sound, (17 mins. B/W)
ZOOM RECORDS! STORY
Late 50's Arizona record label created by High School kids.
Interviews and rare pics (33 mins. color ,B/W)


Ed Sullivan Show
10/6/63 with:
Angels
Dick Dale , more.........(Good quality B/W)


American Bandstand Shows
8/17/68 ~ Amercan Breed
(fair quality, B/W) 2/4/67 ~ Tommy Roe, Joe Simon (fair quality, B/W)



Ten Years After Swing In l

Hollywood a go go 2-20-65:
J. DeShannon, J.Crawford, Platters 30 min 6-5-65: Jr Walker, J. DeShannon, J. Clanton, etc 30'


"Best of" lst Edition


Sir Doug 65-99 tv clips


Animals ~ Ultimate l,2 Best of 1 , 2