Episode 10 [Not on disc, all songs are already on Vol. 1&2]
T.Rex - Get It On
Sweet - Fox On The Run
Alive Cooper - School Out
Gary Glitter - Rock'Roll (Part 2)
Slade - Mama Weer All Crazee Now
Slade - Coz I Luv You
Roxy Music - Virginia Plain
Episode 40
Rolling Stones - Brown Sugar*
Who - Won't Get Fooled again
Generation X - Your Generation*
Motörhead - Overkill*
Ramones - Don't Come Close*
Special A.K.A.- Gangsters*
Bob Marley - Exodus*
* not on disc, appeared earlier
SAMOTSVIETY
USSR TV (1971)(30 mins.)
Russian pop rock
Some interesting guitar and organ sounds;
Male and female vocals
ILLES (1973- 1975)
OMEGA (1969)
From Polish TV (I think)
More guitar pop - rock with that
unforgetable Eastern Euro weirdness
CZERWONE GITARY
HISTORRIA PREBOJOW (1967 - 1979)
More Polish TV
Rock and Roll!
CZESLAW NIEMEN
Polish TV (1970-1986)
Pop music/ guitar bands
ROCKLEGENDAK
Polish TV (1969-1990's)
Illes, etc.
BEST OF USSR / POLISH TV (1969-1972)
Best of the guitar pop - rock band clips.
Enter an alternative rock and roll reality........
Singing Guitars
Funny Guys
Pesniary
Samotsviety
Omega
Illes
More.... (60 mins.)
"STONED" (2006)
Feature film of the life and times of Brian Jones
Great soundtrack and realistic portrayal of the sex, drugs and rock and roll sixties.
BEAT CLUB - Episode 13
Excellent quality
The "lost episode"
Not included in the recent new re-releases
October 1966
Lovin' Spoonful - Summer In The City
Manfred Man - Just Like A Woman
Peter and Gordon - Lady Godiva
Ramsey Lewis Trio - A Hard Day's Night
Simon and Garfunkel - I Am A Rock
Sonny & Cher - Monday
Tommy James & Shondells - Hanky Panky (Hard to find early promo!)
Walker Brothers - The Sun Ain't Gonna Shine Any More (RSG)
Walker Brothers - Everything Is Alright
THE BEATLES ON BBC4 TV
4 recent fab Beatle docs on one DVD!
"Beatles First US Visit"
"The Filming of the First US Visit"
"Beatlemania"
"Beatles on Record"
Ghoul A Go Go 6 episodes
Really cool and funny 2000 era sixties parody music show
With LIVE performances by neo-sixties bands and bizarre archive films / 30 mins. each.
"Robots" - Insomniacs
"Super Heroes" -Insomniacs
"Monkeys" - Insomniacs
Halloween - Dead Elvis
Cavemen - Dead Elvis
Surfing - Dead Elvis
MY GENERATION (1995)
UK TV DOCS Interviews with band members, managers, etc.
Short vintage clips, All five docs on one DVD!
Great UK perspective on these British Invasion gods
Kinks
Hermin's Hermits
Troggs
Small Faces
Animals
Northern Sounds/TAGES
(Almost all songs sung in English)
A. Tages
01. Crazy 'bout My Baby [Finnish TV, 1967]
02. Go [Finnish TV, 1967]
03. Miss MacBaren [Finnish TV, 1967]
04. In My Dreams [Finnish TV, 1967]
05. Get Up An' Get Goin' [Finnish TV, 1967]
06. She's Having A Baby Now [Promo film, 1967]
07. I'm Going Out [Promo film, 1967]
08. Fantasy Island [Promo film, 1968]
09. To Be Free [Promo film, 1968]
10. In My Dreams [Popside, 1966]
11. I Should Be Glad [Tio I Topp, 1965]
12. Wanting [Beat Beat Beat, 1967]
13. In My Dreams [Beat Beat Beat, 1967]
14. Every Raindrop Means A Lot [Beat Beat Beat, 1967]
B. Scandinavian Beat
01. The Slam Creepers' - ­ I Should Have Known Better
02. The Spotnicks -­ Please Say Yes
03. The Alligators -­ Buckle Shoe Stomp
04. Swedish Supergroup
05. The Demons - Hippy Hippy Shake
06. The Demons -­ Too Much For Me
07. Claes Dieden -­ Do You Want To Dance?
08. The Hep Stars -­ Bald Headed Woman
09. The Hep Stars -­ Whole Lotta Shaking Goin' On
10. The Hep Stars -­ No Response
11. Siw Malmkvist & The Hep Stars -­ Slit Och Släng (Lucky Lips)
12. The Hootenanny Singers -­ Darlin'
13. The Hounds -­ I'll Take You Where The Music's Playing
14. Lenne & The Lee Kings -­ L.O.D. (Love On Delivery)
15. Blond (ex. Tages) ­
16. Les Rivals - [Hit House, Kopenhagen]
17. Les Amis [Hit House, Kopenhagen]
18. The Hitmakers [Hit House, Kopenhagen]
19. The Defenders -­ [Hit House, Kopenhagen]
20. The Sharks [Hit House, Kopenhagen]
21. The Red Squares - ­All My Crying [Beat Beat Beat, 1967]
22. The Red Squares -­ I Get Around [Beat Beat Beat, 1967]
(90 mins.)
WHERE THE ACTION IS / MALIBU U
8/11/66 - James Brown, Knickerbockers
8/24/66 - Sandpipers
9/5/66 - Righteous Bros.
MALIBU U 8/11/66
Turtles
Don and the Goodtimes
Welcome to the Fillmore East, 09/23/70
Excellent quality in color
The Byrds--Jesus Is Just Alright
The Byrds--Eight Miles High
The Elvin Bishop Group--Crazy About You
Albert King--Oh Pretty Woman
Albert King--Blues Power
Sha Na Na--Walk Don't Run
Sha Na Na--Teen Angel
Van Morrison--These Dreams of You
Van Morrison--Cypress Avenue
HOLLYWOOD A GOGO Supercharged US Mid 60's Pop Show!
December 25 th 1965 nice condition – no timecodes!
Simon & Garfunkle – "Sounds Of Silence", Dixie Cups "Chapel Of Love" & "Alphabet song",
The Association "One Too Many Mornings", Donna Laren "Call Me", Bobby Freeman, Lesley
Gore "It's My Party" & "Sunshine and Lolipops" 30 min EX-
14 th July 1965
On Beach Location edition Haiwai
Jan & Dean - "Honalulu Lulu" The Crickets, The Wellingtons, The Challengers, Jackie &
Gayle, Ray Peterson 45 min VG+
July 31 st 1965
The Impressions (Curtis Mayfield), Jody Miller, The Challengers, Glen Yarborough, The
Sinners, Jimmy Witherspoon & Ray Peterson, 47 min EX
August 7 th 1965
James Brown "I Got You", Sonny & Cher,"All I Wanna Do", "I Got U Babe", Aretha Franklin
"Mockingbird", The Sinners "Milk Cow Blues", The Chambers Brothers "Call Me"
The Kiberleys 47 min EX
August 14 th 1965
Bo Diddley, The Sinners, Booker T & The MG's "Green Onions"
John Andrea Faron Young, Carla Thomas, Wayne Fontana & The Mindbenders 47 min EX
October 23rd 1965
The Turtles – "It A'int Me Babe" & "Let Me Be", Jimmy Rogers, The Sinners, Eddie Hodges –
"New Orleans", Jody Miller, Jackie & Gayle Mel Carter, The Spokesmen 47 min EX
1966 Mike Douglas Show 10/4/1966 with Ozzie & Harriet, musical guest Ricky Nelson
1969 Mike Douglas Show - 4/1/69 - Shirley Bassey the Beach Boys (90 Min.) EX- plus a complete edition of "Never Too Young" (US Soap Opera with the Castaways)
TOTPS 2/15/68
b/w very good quality
Status Quo
Manfred Mann
Move, more (29 mins)
TOTPS 1/29/70
Badfinger
Jethro Tull
Shocking Blue
Edison Lighthouse
Brotherhood of Man
Boldwyn Pig (40 mins.)
Age tendre et tete de bois (1/22/64)
French TV with:
Triny Lopez
Johnny Halliday
Bizarre version of "Martian Hop" with "Martians"
Beatle parody band
Plus...Lot's of French Pop singers (50 mins.)
Phyllis Diller (1965 full show in Color)
Apollos (Teen garage LIVE)
"The Cheetah, a Mod Mecca" with Esquires and Jewels (LIVE)
Color promo film for this famous New York club.
Mike Douglas - Royal Guardsmen ( Full color 90 min. episode)(11/24/67)
Fifth Estate Promo film (Cool pop/psych in color)
Disc also contains Jerry Lee Lewis clips
David Frost - Rockin' Berries / Julie Driscol (8/4/68)
David Frost - Gene Pitney / Lou Rawls 2/22/70
Coke Dance Party (1959)
Rare B/W US TV show with cool kids and dance records
Milton Burle Show (B/W 1966)(60 mins.)
Sam the Sham does two songs
Disc also contains Bob Crane Show episodes
Jack Benny Show (3/20/68)
Paul Revere and the Raiders (Ex. quality in color)(60 mins.)
Jack Benny Show 11/3/65
Beach Boys (ex. quality in color)(60 mins.)
Hollywood A GO Go episodes
12/25/65
10/23/65
8/7/65
Midnight Special (1973) (Japanese re-broadcast)
Bee Gees
Hermin's Hermits
Hollies
SHOWTIME (Dave Clark 5) (w/ OC)
Rare variety show from 1968, hosted by Juliet Prowse.
Guests include: The Dave Clark Five, Buddy Greco and comedians Joe Baker & Bruce Forsyte. (60 mins) / VG+
SHEBANG "Motown Salute" Complete show recorded on April 17th, 1967. Brenda Holloway and The Temptations. (60 mins) Good / VG+
INSIDE POP – THE ROCK REVOLUTION (1966)
A rare CBS News documentary focusing on music, youth culture and the generation gap! Hosted by Leonard Bernstein. Made in late 1966 but wasn't broadcast till April, 1967.
Featuring: Janis Ian, Tim Buckley, Herman's Hermits (backstage and "live" clips) 2 songs; The Hollies (live clips); Brian Wilson rehearsing "Surf's Up"; plus interviews w/ Jim McGuinn, Frank Zappa, Frank Cook, Pam Polland & Rich Stanley ('Gentle Soul'), members of the UFO, Peter Noone and Graham Nash. (1 hour) VG+
SHEBANG (May 6th, 1967)
Broadcast from Anaheim Stadium, California (from a master recording with recording slates!)
Thee Midnighters, Brenda Holloway, The Yellow Balloon, James Darren, Martha and the Vandellas and Annette. Great show! A (60 mins)
PROJECT 65 - The Road To Beatlemania (1965) Rare!
"Lucky Stars on Merseyside"
Vintage UK TV
Beatles
Gerry and the Pacemakers
Cila Black
Searchers
Billy J. Kramer and the Dakotas
Tommy Quickly
Breakaways
THE BEATLES IN AUSTRALIA (20 Years Ago Today) 1994 documentary with rare footage. Off-air. (50 mins)
THE BEATLES DOWNUNDER (25th Anniversary special): Rare unedited station-copy of the 1989 special.
This version runs 15 minutes longer than the aired version! A+
60's A GO-GO:
A compilation of commercials, music segments, TV themes and more of the Pop teen culture of the early and mid 1960's. Many rare clips! (2 hours) VG+
CHICAGO ROCK MUSIC ARCHIVE: Great performances of rock groups who started in Chicago! 1960's- 1970's! THE BUCKINGHAMS: "King of a Drag", "Knocks Me off My Feet", "You Don't Care"; THE AMERICAN BREED: "Bend Me, Shape Me", "Ready Willing and Able"; THE SHADOWS OF THE NIGHT- "Gloria"; THE GRASS ROOTS- "Midnight Confessions" (B&W & Color); "Heaven Knows", "The Way I Do", "Hello Linda" , "Walking Through The Country", "Dancing in The Streets" PLUS: "Cyan' Shames live 2002" 9 Songs including Their hit "Sugar & Spice" Superb! (85 mins/B&W/Color/ VG+/Excellent Quality)
LEGENDS OF RARE SOUL
VOLUME ONE 1963-1969
Kim Weston
Nancy Wilson
Joanie Sommers
Major Lance
Exciters
Tony Clarke
Barbara Mc Nair
Brenda Holloway
Joe Matthews
Spiral Staircase
Mamie Galore
Chuck Jackson
Gloria Jones
Gene McDaniels
Ester Phillips
O'Jays
Christine Cooper
Delphonics
Gerri Hall
Little Anthony and the Imperials
Radiants
Lada Edmund
C.O.D.s
Frank Howard and the Commanders
Fifth Dimension
O'Kaysions
Dobie Gray
Marvin Gaye and Tammi Terrell
Gene Chandler
Fred Hughes
Mike Douglas Show (11/04/66) (b/w)
Gary and the Hornets
Mike Douglas Show (3/24/75)(color)
Little Anthony and the Imperials
Mike Douglas Show (3/26/75 (color)
Harry Chapin
David Frost Show (8/13/69)(color)
Rolling Stones
Lulu
The Ultimate Syd Barrett Collection
(Disc One)
Syds first trip
Band home movies
Look of the Week
LIVE at the UFO club
German concert clips
"Let's all Make Love in London"~ LIVE studio footage; (14 Hour Technicolor Dream at the Roundhouse)
more............
(Disc two)
American Banndstand
Jugband Blues (Two versions) (color promos)
Tomorrow's World (1967) (Pink Floyd plays to an experimental lightshow)
Home Movies
Roger Waters and Richard Wright interview
Syd Barrett's death news reports on BBC
A look inside Syds house for sale.
PBS Rock special looks at Pink Floyd
Peter Whitehead speaks about Syd and his film "Let's All Make Love in London"
More.....................
LIVE IN FORT WORTH TEXAS (1967) Amazing live, wild color footage of teen garage bands
Sundown Collection
Jades
Phaze V
more.........
Sound is a bit rough but picture quality is excellent!
COLISEUM (2/16/67) (Ex.b/w)
US Variety show hosted by Woody Allen
Paul Revere and the Raiders
American Bandstand (8/1/64)
Premiers
American Bandstand 2/5/66
Paul Revere and the Raiders
Buckinghams (1965)
LIVE on Two episodes of "All Time Hits" (Color ~ full shows) (US TV 1965)
Local TV Buckinghams segment (1980's)
MIND GARAGE (1969)
Newsreel footage with sound shot in a church.
Doors-like sound and look.
Tetes de bois et tendres annees(12/13/67)
Zany French TV
Pop singers
New Players band
Mike Douglas Show (b/w) (5/27/66)
Standells - "Dirty Water" / "Storm Comin'" / "Hey Joe" ~ WOW! LIVE!
Complete show
STAMPING GROUND (1970)(Ex. color)
Holland Pop Festival
Santana
Al Stewart
Canned Heat
T. Rex
Jefferson Airplane
It's a Beautiful Day
Family
Country Joe
Dr. John
The Flock
Tulips
Byrds
Pink Floyd
(90 mins.)
SOUND OF THE CITY : London (1964-1973)(Ex. color)
Mostly LIVE color concert clips and a few promos
Rolling Stones
Animals
Arthur Brown
Otis Redding
Pete Townsend
Cream
Blind Faith
Hendrix
Ike and Tina Turner
Joe Cocker
Pink Floyd
Donovan
Faces (85 mins.)
Celebration at Big Sur (Ex. Color)
Interesting outdoor, small stage performances
Joan Baez
CSNY
Joni Mitchell
Dorothy Morrison and the Combs sisters
John Sebastian(90 mins.)
Festival Express (1970)(ex. color)
Hippie bands booze it up across Canada
The Band
Delaney and Bonnie and Friends
Flying Burrito Bros.
Grateful Dead
Buddy Guy
Ian and Sylvia
Janis Joplin
Mashmakhan
Sha Na Na (90 mins.)
Hermans Hermits Compilations
Disc One - Clips and Interviews
Disc Two - Performance clips only (70 mins)
Ex. quality clips from around the world
Small Faces Compilations
Disc One - Clips and interviews
Disc two - High quality Performance clips only (65 mins.)
Amougies Festival (1969)
(Documentary feat.Nice, Yes, Zappa & Pink Floyd - Beefheart Footage)
Supershow (1969)
(Modern Jazz Quartet, Misunderstood, Buddy Guy, Jack Bruce, Eric Clapton, Steven Stills, more.. )
LIVE jazz, R & B - rock
Rome Pop Festival 1968 (Pink Floyd, Captain Beefheart, The Nice, Move,
Donovan Others)
Look Of The Week (21 May 1967, Mick Jagger , 14 Hour Technicolour Dream)
King Crimson - Video Anthology 1969-1974 (Hyde Park 1969, Beat Club, 1973
Footage, Melody 1974)
ORTF Archives (1966-1972)
French TV with:
(Yardbirds, Spencer Davis Group, MC5 and Flamin'Groovies)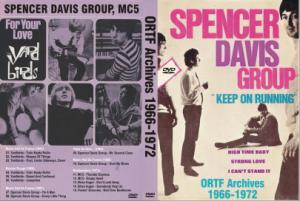 VELVET UNDERGROUND (1967-1996)
The best of the Velvets performance clips!
Various vintage film montage
"Jam at the Factory" - The infamous "busted by the cops" full length version (1967)
John Cale, Lou Reed and Nico LIVE in France (1972)
Nico - "Evening of Light"(1969) (Promo with Iggy Pop)
Nico - "I'm Not Saying" (promo film)
"Venus in Furs" (1967)
"Sunday Morning" (1967)
"I'm Not a Young Man Anymore" (Unreleased LIVE song slide-show)(1967)
John Cale - "Frozen Warnings"(1996)
Chubby Checker LIVE in Sweden (1964)
Excellent quality b/w concert
Insane crowd and wild opening acts!
Telstars
Jerry Williams Band, more........
HIPPODROME (1965)(Ex. B/W)
Variety Show , hosted by Woody Allen
Freddy and the Dreamers
Includes an outrageous, uncut interview with
Woody Allen from 1973
1965 Vibe
Cool sixties clips from 1965
Includes some TV commercials
Beatles/James Brown/DC5/Rolling Stones/Bufferin commerical-Score Deodorant/NBC peacock/excerpt from "Skater Dater"/Beach Boys/Byrds/Eastern Airlines commercial/ Yardbirds/Sonny & Cher/Peter & Gordon/1965 Mustang commerical/Kinks/Castaways/Tom Jones/Sam the Sham/Beau Brummels/Hamms Beer commercial/Del Shannon/Sir Douglas Quintet/Freddy & the Dreamers/Otis Redding/Astrodome newsreel/Peter, Paul & Mary/Hermans Hermits/Jr. walker/Polaroid Swinger commerical/Donovan/McCoys/Animals /Certs/Supremes/Academy Awards newsreel/Righteous Bros/Q.t. spot/Bob Dylan/Ventures/Gerry & the Pacemakers/Turtles/Lovin Spoonful/LuckyStrike cigarettes ad
"60's SlideShow Jukebox Volume I"
-The Animals/Paul Revere & the Raiders/the Byrds/Buffalo Springfield/Ventures/Beatles/Dave Clark Five/Frank Zappa & the Mothers/Jimi Hendrix/Strawberry Alarm Clock/the Doors/Spirit/Iron Butterfly/Blues Magoos/Yardbirds w. Jimmy Page/Cream/The Who/Yardbirds/Bob Dylan/Jeff Beck group/Rolling Stones/Link Wray/CCR
Go to page 7